Dr. Kurt Johnson is Vice-President of National Ethical Service. At the UN, he works with the Eco-Spirituality Working Group in association with the CONGO Committee Spirituality, Values and Global Concerns.
NPR AUDIO LINK: Kurt Johnson and David Korten discuss the world challenges and the visions of Sacred Earth and Interspirituality. First hour on NPR here: http://www.steinershow.org/radio/the-marc-steiner-show/november-26-2012-hour-1
Kurt Johnson is well known internationally as a scientist, comparative religionist, social activist and former monastic. He is recently co-author of the book The Coming Interspiritual Age, a book that has grown out of his decade-long work with NES with regard to interp-cultural and inter-religious dialogue. With a PhD in evolution, ecology, systematics, and comparative biology, plus extensive training in comparative religion and philosophy, he was associated professionally for twenty years with the American Museum of Natural History and also the One Spirit Interfaith Seminary in New York City. Ordained in three spiritual traditions, he is recognized as a close associate of Brother Wayne Teasdale, the founder of the modern "interspiritual movement," and works also with the international Contemplative Alliance and Father Thomas Keating, founder of the Centering Prayer Movement. Teasdale, Johnson, Gallahue and others co-founded the international Interspiritual Dialogue association in 2002, which presented at the 2004 Parliament of the World's Religions and then expanded to become the virtual Interspiritual Multiplex web resource. In science, Dr. Johnson has published over 200 professional articles and seven books on evolution and ecology. His popular book Nabokov's Blues: The Scientific Odyssey of a Literary Genius (co-authored with New York Times journalist Steve Coates) was a "ten best" book in science in 2000 at Booklist, Library Journal, the Washington Post and HMS Beagle and "Editor's Choice for 1999" at The Seattle Times.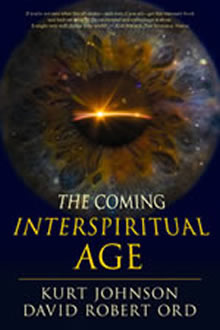 About the book:
November 2012 Release Date, Namaste Publishing, the publishers of authors including Eckhart Tolle, Michael Brown, Shefali Tsabary and others. This book has been endorsed by over forty leaders from across the world's religions and transformational communities. Articles about The Coming Interspiritual Age will appear this fall and winter in Kosmos and The Interfaith Observer, among numerous other places to be announced.
THE COMING INTERSPIRITUAL AGE introduced to a Humanist audience: